Taylor Rosenthal
CEO, RecMed First Aid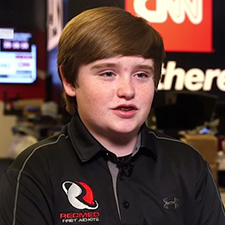 Taylor Rosenthal
CEO, RecMed First Aid Kits
Not many 14-year-olds can claim to have a product that has already received its first patent. Taylor Rosenthal came up with the idea of creating vending machines that dispense pre-packaged first aid kits in the Young Entrepreneurs Academy.
"It's a computerized vending machine that functions similarly to a Redbox machine but instead of it dispensing DVDs, it dispenses first aid supplies. So we put these at any high traffic places that kids could get hurt, so like amusement parks, all kinds of parks, recreational centers, conventions, football stadiums, baseball fields, everywhere," Taylor said.
Just last year, Taylor was offered a $30 million buyout for his company. He turned it down! He's holding out for a bigger offer. If he does sell, he plans to use the money for college, and to buy a Bentley—even though he's 14 and doesn't even have his learner's permit!
Visit Taylor's site at www.recmedfirstaidkits.com
Other Student Successes